Press Office
Contact Information
Press Releases.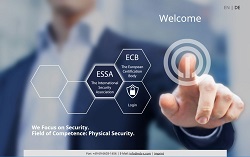 New Design for our Homepage
User-friendly interface in responsive design
Frankfurt/M. – January 2018. We are pleased to present you our updated homepage under the familiar address www.ecb-s.com. Our website comes in a new, more navigable design and offers all interested parties, customers, partners and members extensive information.
The redesigned website will continue to provide information on security products, resistance levels, areas of application, insurance amounts and manufacturers. As before, our focus lays on the simple user interface, which gives you a quick and uncomplicated impression of our entire range of services.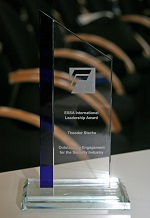 ESSA General Assembly 2017
Review of 50 years of successful association work – Looking forward to new challenges
Frankfurt/M. – November 2017. On November 9, 2017, the annual General Assembly of the European Security Systems Association (ESSA) was held in Frankfurt am Main. 141 representatives of the international security industry came together to not only review the activities of the last year. Rather, the jubilee year was a welcome occasion to bring back the history of the association, the people behind the achievements and the accomplishments of half a century.

The 2017 General Assembly was moderated by the chairman of the board Harald Lüling (BURG-WÄCHTER KG) and the deputy chairman Myriam Bevillon (Gunnebo AB). "Our association has grown to 137 member companies since the fall of 1967 and with the high personal commitment of all our members, we are working hard to advance and continually improve the market of physical security" says Dr. Markus Heering, Managing Director of ESSA. This dynamic within the association reflects the dynamics in the market. The European Security Systems Association has proven itself as independent representors of interests and as an established platform for the professional exchange of manufacturers, dealers, insurance companies and authorities in the field of the physical security industry. "ESSA continues to be fully committed to identify the prevalent restrictions on the international market of physical security. It is our main task to support our members in recognizing and overcoming market barriers", he said.

In addition to the golden jubilee, this year's general meeting focused on the keynote speeches of the three invited guest speakers Anna Pettersson (FOI Swedish Defense Research Agency, Stockholm), Jürgen Küenzlen (Adolf Würth GmbH & Co. KG, Künzelsau) and Julia Jacob (MESSE ESSEN GmbH, Essen).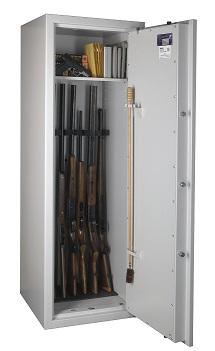 Amendments on German Weapons Act – What you need to know?
The new law on weapons has been in force since the 30th of June 2017. Especially, the owners of long and short firearms are affected by the changes.
Frankfurt/M. – July 2017. The amended German Weapons Act entered into force on 30th of June 2017. The comprehensive amendments mainly concern the storage of firearms and ammunition. Products according to the VDMA specification 24992 are now no longer allowed for weapon storage in case of a new purchase. For A and B cabinets which are already in use, however, unrestricted inventory protection applies.
Switch to the archive of older messages.